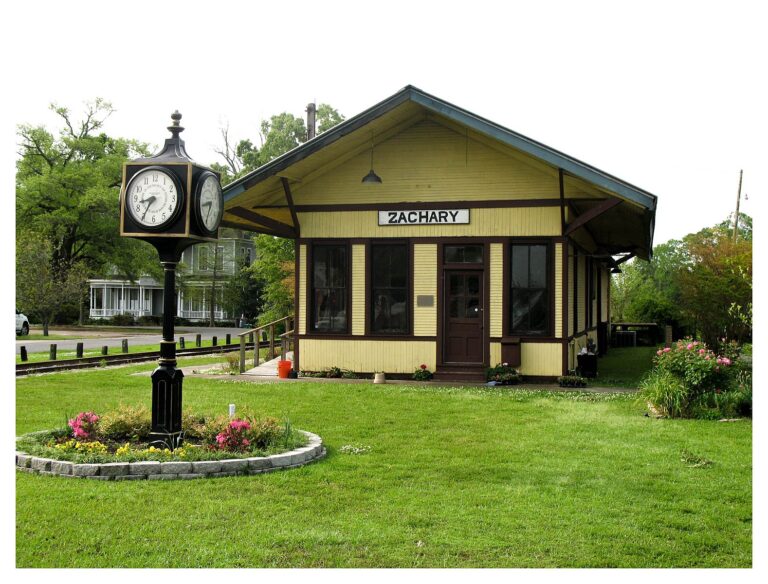 A Local History Lesson
Our dental practice is proud to be part of Zachary, a vibrant community in the northern East Baton Rouge Parish, offering top-notch dental care to residents and visitors alike. Let's embark on a journey to explore Zachary's fascinating history and uncover some fun and interesting places to see and things to do in this delightful area.
The city's history dates back to a 160-acre farm owned by Darel Zachary in the 1800s. He sold his land to the Illinois Central Railroad in the 1880s, and they built a track and a railroad depot there. The village that sprang up around the depot was named Zachary after the farmer. A post office opened in 1885 and it was incorporated as a city by 1889.
In 1903, a devastating fire (allegedly caused by a grocer trying to ripen his bananas over flames) destroyed many buildings. The buildings that survived the fire or were built in the years after it form the historic village at the heart of the city.
Exploring the Past: Historic Places
Step back in time as you stroll through the Zachary Downtown Historic District. You'll see a rare snapshot of neighborhood life in small town Louisiana in the late 19th century, and you can check out the city museum too. You'll also find charming boutiques, antique shops, and cozy cafes. This area exudes a warm and welcoming ambiance, perfect for a relaxing afternoon.
Train enthusiasts will delight in a visit to the Zachary Railroad Depot, which played a vital role in the city's growth during the late 1800s. The depot now serves as a museum, preserving the area's railway heritage.
Places to See and Things to Do
Enjoy a day outdoors at BREC Zachary Community Park, where you can have a picnic, go for a walk on the trails, or let the little ones explore the playgrounds. The park also hosts community events, providing an opportunity to connect with locals.
For nature enthusiasts, a Campbell Swamp Tour is a must. Embark on an adventure through the scenic swamps and bayous, where you can spot local wildlife and learn about the area's unique ecosystem.
Immerse yourself in the local culture by visiting the Zachary Farmer's Market. Here, you can explore an array of fresh produce, artisanal crafts, and homemade goodies, all while supporting local vendors.
Morris Family Dentistry in Zachary, LA
We love serving the people of Zachary, LA and helping them achieve their healthy smile goals. Whether that means essential preventative dentistry through regular cleaning appointments, something more advanced like dental implants, or even cosmetic treatments like veneers to give your smile a pearly white gleam, we look forward to being your partners in lifelong dental health. Check this map if you need directions to our practice.
If you are unsure whether your situation is considered a dental emergency, do not hesitate to contact us anyway. We quickly diagnose and determine the gravity of the problem and treat you according to your emergency needs promptly. Sometimes life happens, and there are just times when dental care is immediately needed. In these times, an emergency dentist is who you need to call.